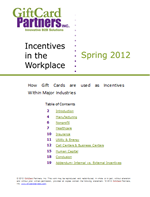 Are you looking to improve productivity, while keeping your employees motivated? Do you wonder how other industries that also run the programs you do implement them? Do you want to know how other people measure their employee incentive programs?
Best Practices For Workplace Incentives
The answers to these questions and more are in GCP's comprehensive
Incentives in the Workplace eBook, which outlines how workplace incentives are used industry by industry. Start by selecting the industry you are in and then peruse to see how "others do it", by learning about other industries, job functions, and employee programs. Enjoy and please don't forget to give us your feedback on this blog page.
Download the eBook here.