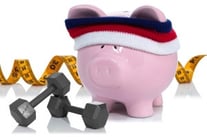 Considering setting up a wellness program for your employees? New evidence shows that an investment in a wellness program returns two to five times the cost, directly to the bottom line. For every dollar invested companies are saving between $2 and $5 on healthcare benefits and sick leave payouts. Wellness programs also improve overall employee engagement.
Healthy employees are more productive in the workplace and cost the employer less. While absenteeism is the most noticeable, the bigger threat to employers is "presenteeism". Presenteeism consists of those employees that continue to come to work every day when they are not healthy, whether mentally or physically.
Though these employees are at work, they aren't really there. Heavy workloads and also feeling compelled to be at work when they do not feel well in order to satisfy clients, co-workers, and superiors results in presenteeism.
Employee engagement also ties into presenteeism, as the presentee employee is found at the low end of the engagement scale.
A comprehensive program is needed when setting up a wellness program. Ideally a wellness program is designed by the employees themselves by surveying factors such as work-life balance, respect from superiors, and clear leadership and expectations. Many wellness issues are interconnected to employee engagement, such as bad bosses and a toxic work environment.
It's vital for employers to consider connections between their current wellness programs and employee engagement programs and how they are both strategic ventures for their organization.
Want to do your own Life at Work checkup? Click here to take a survey to see your score and risks!