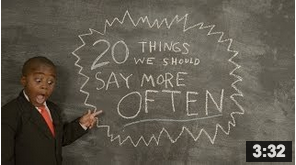 Inspire Teamwork With Words Of Affirmation Words of affirmation can be the most genuine incentive in the workplace. Play this short video clip in your next staff meeting or send it to a few coworkers.
Kid President's 20 Things We Should Say More Often
In this video: Kid President highlights 20 things we should say more often. Some examples: "please," "thank you," "you can do it," "I have barbeque sauce on my shirt too," "my team is sometimes not the best team," and "life is tough, but so are you."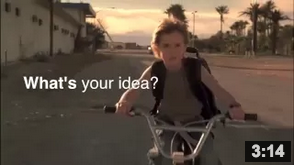 Pay It Forward In The Workplace A single genuine deed can infest your team with positivity. This clip will spark serious contemplation and desire to 'pay it forward' amongst your colleagues. It will open up thoughts like: What does my team expect from one another? What can I do for my company that is not something they can do by themselves? How can I pay it forward to my coworkers? or How can they pay it forward to one another?
Are you ready to do the world a favor?
To get started: Here is advice from Trevor McKinney played by Haley Joel Osment "Its hard, you can't plan it. You have to watch people more - to sort of keep an eye on them – to protect them. They don't always know what they need."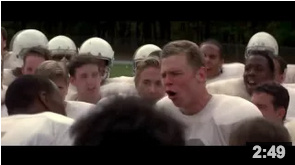 Harness Anger and Frustration to Yield Enormous Victory Sometimes employee incentives come in a raw form. This clip from the movie Remember the Titans will slap you with a reminder to redirect negative energy when your team is down. It will motivate you to remind your coworkers of their power and show them that uncompromised dedication and can yield enormous victory.
Remember the Titans - Inspiration
In the beginning of this clip, Coach Herman Boone played by Denzel Washington compares his team to a 2 year old child when they 'throw a fit' on the field. "[Work] is about controlling that anger," he says, "harnessing that aggression into a team effort - to achieve perfection. When you put that uniform on...you better
come to work"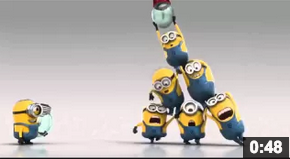 Teamwork Solves Tough Challenges These adorable little minions will add a bit of sunshine and happiness to your day. This short clip will remind everyone at your company that teamwork is COOL – and anyone who thinks otherwise (or makes fun) will be made a fool and turned into a big shiny light bulb. That's some serious incentive right there; no one in his or her right mind would enjoy being put on display as a big shiny light bulb, right?