Healthcare providers are facing perennial challenges from providing patients the best care and working with insurance providers, to ensuring that they are getting compensated fairly for that care. However, the care that doctors and hospitals provide is measured, in some part, by their ability to help patients stay healthy.
Improving patient care means helping patients make better, long-term decisions about their health and habits. The question comes down to: how do you facilitate healthier habits?
79% employers with over 500 employees and 30% with employees between 100-499 are self-insured. In order to engage their employees, encourage healthy outcomes, and save costs, many employers look to incentive programs to motivate behavior changes. This trend is spreading to doctors and hospitals as well. However, the largest challenges to overcome are low patient participation and measuring the success of these programs.
Here are the top two things you need to know to effectively incentivize patients not just to get healthy, but to maintain lifelong healthy habits.
1. Incentives Are Key
While 86% of employers offered wellness incentive programs in 2018, a common challenge of programs is maintaining participation. An effective way to increase participation and change behavior is using small incentives, such as gift cards. Non-cash incentives, in particular, are easy to customize for the recipient and the experience you want to instill.
For example, employees can qualify for a drawing if they complete the behavior you outline, such as personal health assessment, biometric screening, a behavior change campaign, or a challenge. The drawing could be for a gift card for a meal kit delivery service, like Home Chef, where you can ensure healthy meal options are available for the recipient, including food for diet-restrictions based on conditions like diabetes.
The trick with wellness incentives is that not all employees get an incentive for completing the target behavior, according to WellSteps. because that can lead to a sense of entitlement. Having the chance to win is equally desirable and fun, like playing the lottery on a smaller scale, and sufficient to motivate most employees.
2. Deliver Incentives the Right Way
Providers know best that each patient has individual preferences and health goals. While some patients are able to provide ample health information to their doctor or hospital provider, others may send you on a treasure hunt for information. The same goes for incentives and their delivery. Some patients will prefer to track their health goals and progress individually or on a one-on-one basis with their healthcare provider, while others will prefer to seek out groups for encouragement and motivation. Some patients desire social recognition for their achievements while others prefer individual recognition from only their provider. Understanding your patient's individual preferences will help you determine the best way to select the right incentives and how to deliver them in the most effective way.
According to a new study from the Incentive Research Foundation, factors leading to reward presentation can vary from generation, gender, occupation and other factors. Ensuring you know how your patients will want to interact with and participate in a program and its incentive components is key for success.
While incentive programming from employers and providers can vary in size and scope, the core principles are consistent. Delivery and availability of incentives will have the greatest impact on program success. Reaching patients effectively will ensure their health and wellness through 2020 and beyond.
---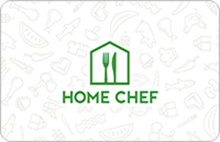 Did you know? With Home Chef gift cards, you can send a variety of health-conscious meal choices to help support diet and health restrictions that match your patients' individual needs, right to their door.
Use Home Chef gift cards to encourage participation in wellness programs, create healthy habits, lower health costs, and support overall wellness goals.