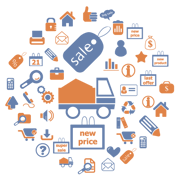 Retail TouchPoints (RTP) is an excellent source for retail executives to stay apprised of insightful content around the latest in customer-facing technologies and the development of critical customer loyalty strategies to compete in today's retail environment. In RTP's
Top 20 Articles of 2011; they outline top 20 most viewed articles of last year and review the top trends across those most read stories. They noted that the majority of the most viewed articles were case studies with success stories from leading retailers, highlighting that "retail executives are looking to learn from their peers….two of the hot-button topics in 2011 were mobile technology and social commerce." I hesitate to simply lead you to the list. First, I must note that the top article is
10 Innovative Solutions In The First Annual Next-Gen Retail Awards Report; an important composition of innovative solutions highlighted at the 2011 National Retail Federation (NRF) Annual Convention. The innovations profiled in the report included 10 categories like: social media; in-store marketing; inventory management; store intelligence; mobile technology; customer engagement; POS, and cross-channel. "In a challenging economy retailers are struggling to turn shoppers into brand advocates. With that in mind, customer loyalty was a hot topic in 2011." Visit the full list of Top 20 Retail TouchPoints articles and you can also access the actual articles, insights, case studies and more to start your own innovative approaches.