Social gaming is an emerging trend in social media, gaming, and employee engagement. Games like Farmville have engaged millions through Facebook, and that type of addictive social game experience is now being applied to health and wellness programs. Keas is a social gaming application being used to promote office exercise, team camaraderie, and lower health care costs. The application eliminates lazy, sedentary lifestyles, helping employees lose weight and minimize chronic illness, while providing a fun interactive game experience. Employees can track progress and monitor their health improvement, while also interacting with and getting to know their coworkers.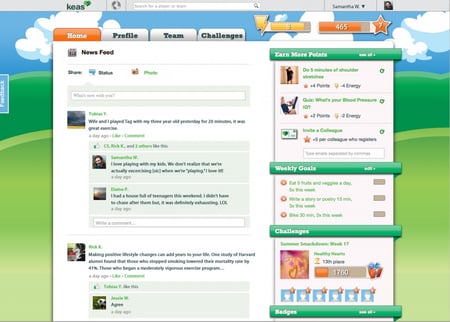 The interface, pictured above, looks very similar to popular social media sights such as Twitter and Facebook, which provides a level of comfort and familiarity to the user. To make this type of gaming even more effective, add rewards upon accomplishment of goals. Spot rewards such as gift cards can be great for these types of programs because the gift card like AutoZone, CVS, The Limited, and Charming Shoppes can be used to help the employee maintain a healthy lifestyle. Leveraging the popularity of social media can help lower your company's healthcare costs while helping employees live a healthy lifestyle.
For more information on Social Gaming for Health and Wellness check out this Mashable article.