A recent study from the Incentive Research Foundation, Engaging Outside Program Support for Incentive and Recognition Programs, is full of ideas on how to use outside firms to optimize your incentive programs this year. There are a number of ways to go about outsourcing an incentive program, from working with gift card providers as a cost effective reward solution, to having your program fully administered by an outside firm. Here are a few unique ways to outsource efforts, while keeping costs low and increasing your program(s) success rates:
Full Service Providers vs. Gift Card Providers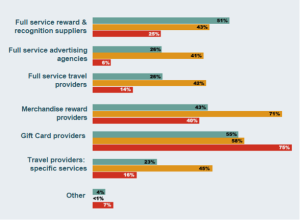 End-users employ a variety of providers, from sales programs (green), to channel programs (yellow) and employee programs (red). We will focus on employee programs in this post. A great way to be effective without breaking your budget is to employee a gift card only provider, without employing a full service program administrator.
75% of survey respondents employ gift card only providers for employee programs
75% of survey respondents employ gift card only providers for employee programs, which offer a variety of gift card options and often include a discount for bulk orders. These providers would help your HR team administer the program, without handling all of the logistical aspects of the program. Only 25% of respondents to the IRF survey utilized a full service provider for employee programs. The likely reason? The integration period and cost is significantly less with a gift card only provider while still offering the variety and impact that your employee program needs.
Ordering Online vs. Having an Account Representative
According to the 2015 Global Consumer Online Shopping Expectations report from DYN, more than 90% of consumers surveyed across 11 countries said they make at least 25% of their purchases online. Whether it's clothing or office supplies (or even admittedly dog food!) it's nice to do things on your own time and on your own terms. However, when it comes to incentives for your program, it might be beneficial to order through an account manager, as 65% of the IRF respondents indicated they do. Why? Because when using outside help, the human element can save your bottom line. Account reps can help you hit discount amounts that you might not know exist. They can give you preferential pricing, or free shipping. The human element may take a few more minutes to process but it may save you money in the long run. Do you have more pro tips? Leave us a comment and you could see it in a future blog.