Home Chef started in 2013 and delivers 2.5 million meals per month. The Chicago-based company prides itself on helping busy people skip the grocery store and whip up delicious meals in 30 minutes.
Home Chef gift cards give you the chance to share the love of cooking with the busy people in your life, whether it's an employee, client or customer.
Here are five more reasons to love Home Chef gift cards:
1. Pick Your Favorite Recipes
From hearty meat and seafood options to gluten-free and low-carb dishes, Home Chef's recipes provide plenty of choices for everyone.
Every week, you can browse Home Chef's latest menu and choose from 10 dinner options, new breakfasts, a fruit basket, and a fresh smoothie.
2. Subscribe with Ease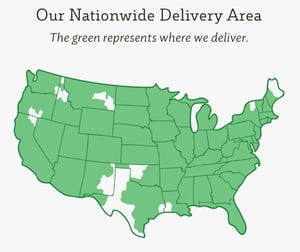 On vacation and need to skip a week? Home Chef allows you the option to change your delivery day, adjust your meals, skip a week, or pause your account whenever you need to.
Subscriptions are easy and flexible so you can make them your own.
Home Chef's weekly pre-portioned meal kits are delivered to 97 percent of the US. Find out if you're covered.
3. Give the Gift of Cooking
Buying your loved ones Home Chef gift cards gives them the opportunity to have an enjoyable experience in the kitchen, making eclectic dishes or more traditional meals.
You also can bring a smile to your family, friend or significant other's face by customizing your Home Chef gift cards with a personalized message.
---
Turn your rewards into experiences by adding Home Chef gift cards to your program.
---
4. Save Some Dough
With everyone watching their pennies and trying to reign in their budgets, Home Chef meal kits have proven to save customers money.
ABC New York conducted an independent test to see how Home Chef prices stand up to grocery store costs. Even after factoring in shipping costs, they reported that cooking with Home Chef was 65 percent cheaper than shopping for the same ingredients at the grocery store.
Watch the video to learn more.
Compare Prices: Home Chef vs. Grocery Store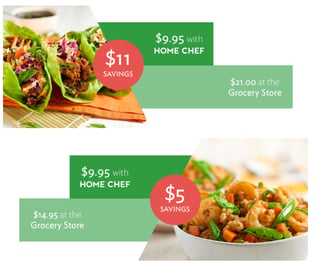 (Source: Home Chef)
Save on gift cards, too. When you buy Home Chef gift cards in bulk, you can also gain access to discounts, easy fulfillment and fast shipping.
5. Learn Meal Prep Tips & Tricks
Sure, saving money on food is a wonderful thing, but what if you're clueless in the kitchen and haven't the first idea of what to do with your delivered-to-your-doorstep meal kit?
For starters, Home Chef's Facebook account has recipes and tips from the company, along with insights from happy customers who've already made meals featured on the page.
Picking a meal is easy with the categorized recipes list on the Home Chef website.
The Table, Home Chef's blog, also features informative posts, such as a summer grilling series, to guide your cooking experiences.

Alternatively, you can check out do-it-yourself recipe videos posted to the Home Chef YouTube page, such as this one for grilled salmon with lemon dill yogurt:
And yes, we strongly encourage you to wear a sweet chef's hat while making your Home Chef meals:
Want to motivate your employees? Incentivize them with Home Chef gift cards that you can order by filling out a brief form.